Working With An Interior Designer
Updated 9/20/22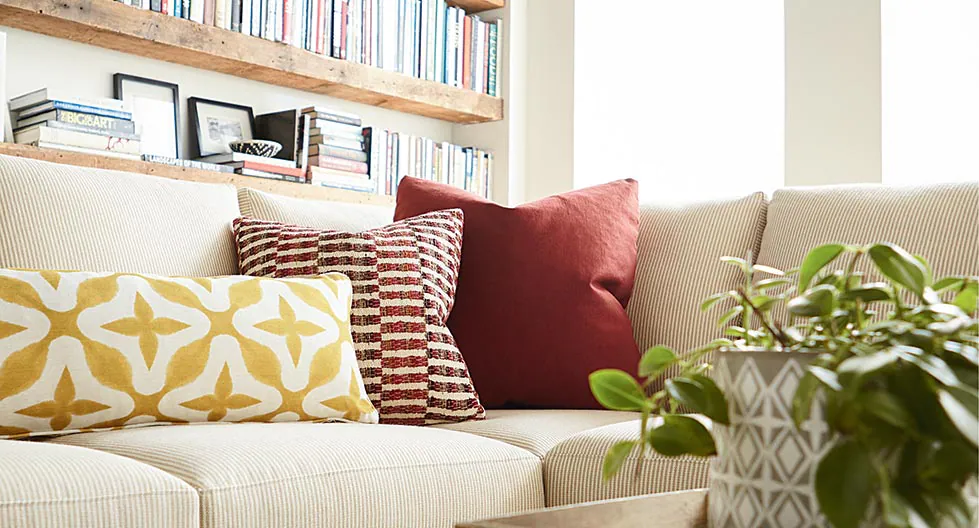 Pro Plan: Working with an Interior Designer
Had one of those moments when you walked into a room and realized that it should look a little more like a glossy magazine spread? Love to decorate but your schedule is so packed with family fun that you can't dig in?
Working with an interior designer can be costly, but Bassett design consultations are free. See how best to work with our interior designers here.
What's It Like to Work with an Interior Designer?
Pretty easy, actually.
We talked with a Bassett Certified Interior Designer in Woodland Hills, CA, for a step-by-step on how our interior design service works and how you can get the most out of it:
1. Meet Your Interior Designer
Working with an interior designer starts by setting up a showroom visit with a local Bassett designer so we have time set aside just for you. (You can call or walk-in too)
That crucial face-to-face gives your interior designer a chance to understand your project expectations, lifestyle needs, and style preferences say our Certified Design Consultant
They will probably ask questions like:
• What do you need? (Single piece of furniture, room reno?)
• What does your piece or room look like? (Pictures of your room and furniture help.)
• Is it a high-traffic room? (Lots of activity — kids, pets, entertaining — makes a difference.)
• What style do you like? (Casual, elegant, in between?)
You might take a walk through our collections, fabrics, and color swatches to narrow down style preferences. And you'll talk through what your interior designer can do and timelines.
"I find personally that it's super important to go through this at the beginning so that nothing surprises my clients," they say. "To show them something they haven't seen before … does not go the way people want it to."
2. Measure Up
With most projects, your interior designer will make a home visit to measure current furniture and your room and get a feel for your space. From there, she or he can put together a plan.
3. Review & Order
Now for the big reveal! You'll meet with your interior designer to see his or her recommendations. For a full room redo, that can include a floor layout, a detailed review of the furniture and accessories that will go in it, paint chips, and even flooring.
You may love the design right away. But even if you can't visualize it, try to keep an open mind. Ask questions and request any tweaks. Once any adjustments are finished and reviewed again, you'll be ready to order.
"We have your best interests in mind and really do want to put the perfect room together for you," says our Certified Design Consultant.
4. Done!
Sit back and relax. We'll give you a call when it's time to schedule your delivery.
Working with an interior designer is easy, right?
So What Is the Cost of Interior Design Consultation?
Usually thousands of dollars. But at Bassett, working with an interior designer is mistake-free and on the house. That's right — interior design consultations are free.
Because your home is family. And we want to make it feel like the place you can't wait to come back to.