Patio Furniture Ideas
Updated 2/2/23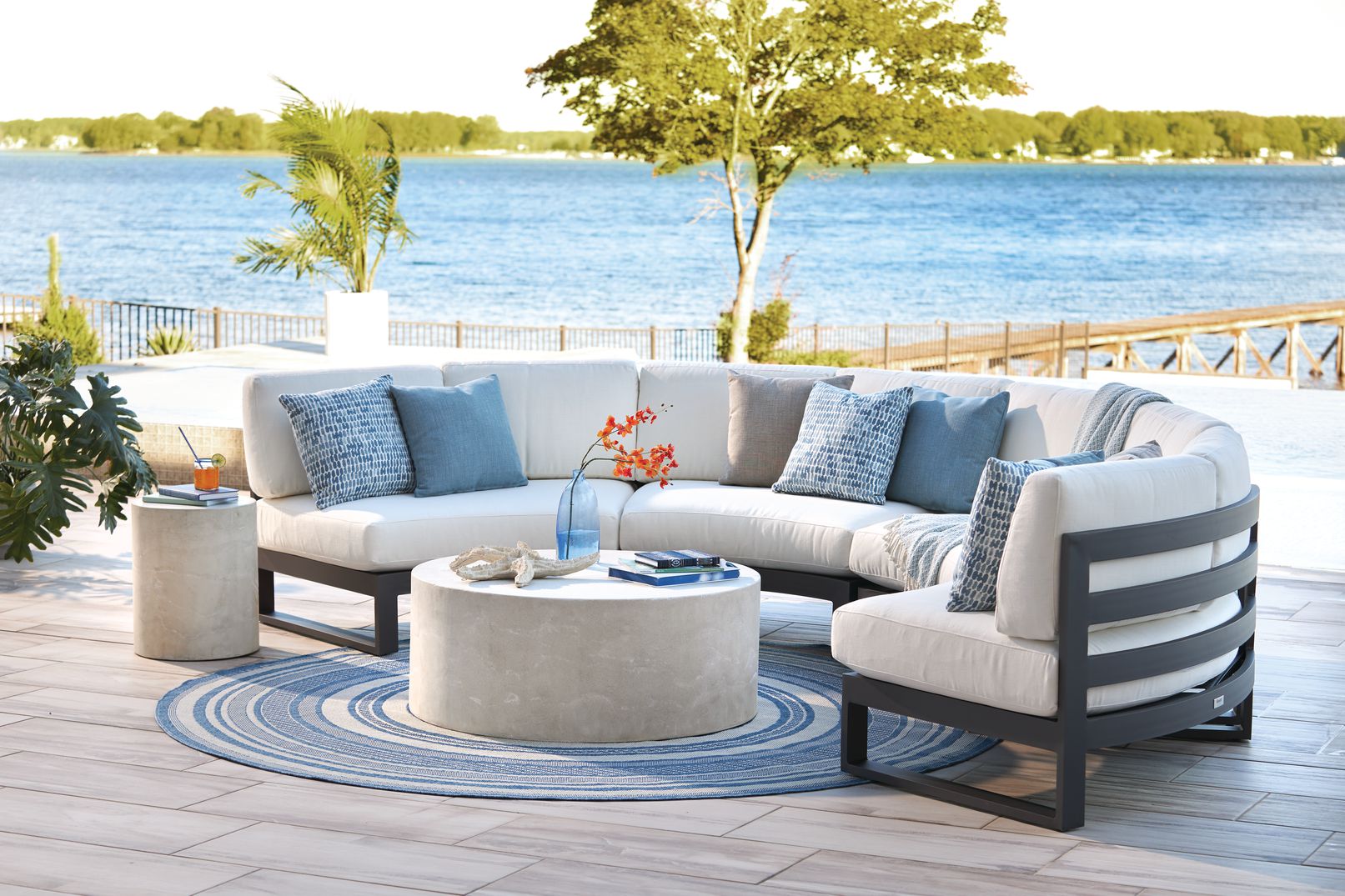 As we spend more and more of our time outdoors, learning how to choose patio furniture means more than just a few quickly selected folding chairs. Knowing how to define the patio space and choose the best furniture can turn any space into a backyard oasis.
In this guide, we'll look at the tips you'll need to choose the best patio furniture for your space, based on several key factors from the pros at Bassett.
Patio Design Basics
Two important factors to consider when designing a patio include location and space:
Location: Your best options depend on the weather in your area and the elements that your furniture may be exposed to. All-weather wicker and powder-coated aluminum pieces work best for wet weather. All-weather wicker pieces will cut your maintenance time in salty environments. In an unenclosed, windy area, heavier furniture frames like wood work best.
Space: Measure the shape and size of your space and consider walking paths so you will be able to walk comfortably. The scale of the furniture should match both the area and what you want to do in your space. If you have enough open area, it's best to err on the side of generously sized seating for comfort. In an enclosed porch with limited space, you may look for pieces with a smaller footprint and comfortable seats.
If you have plenty of space and a desire to lounge with company, a 5-piece Huntington sectional may create the perfect conversation spot. Make sure chairs are not too low or too narrow by sitting in them and testing them out.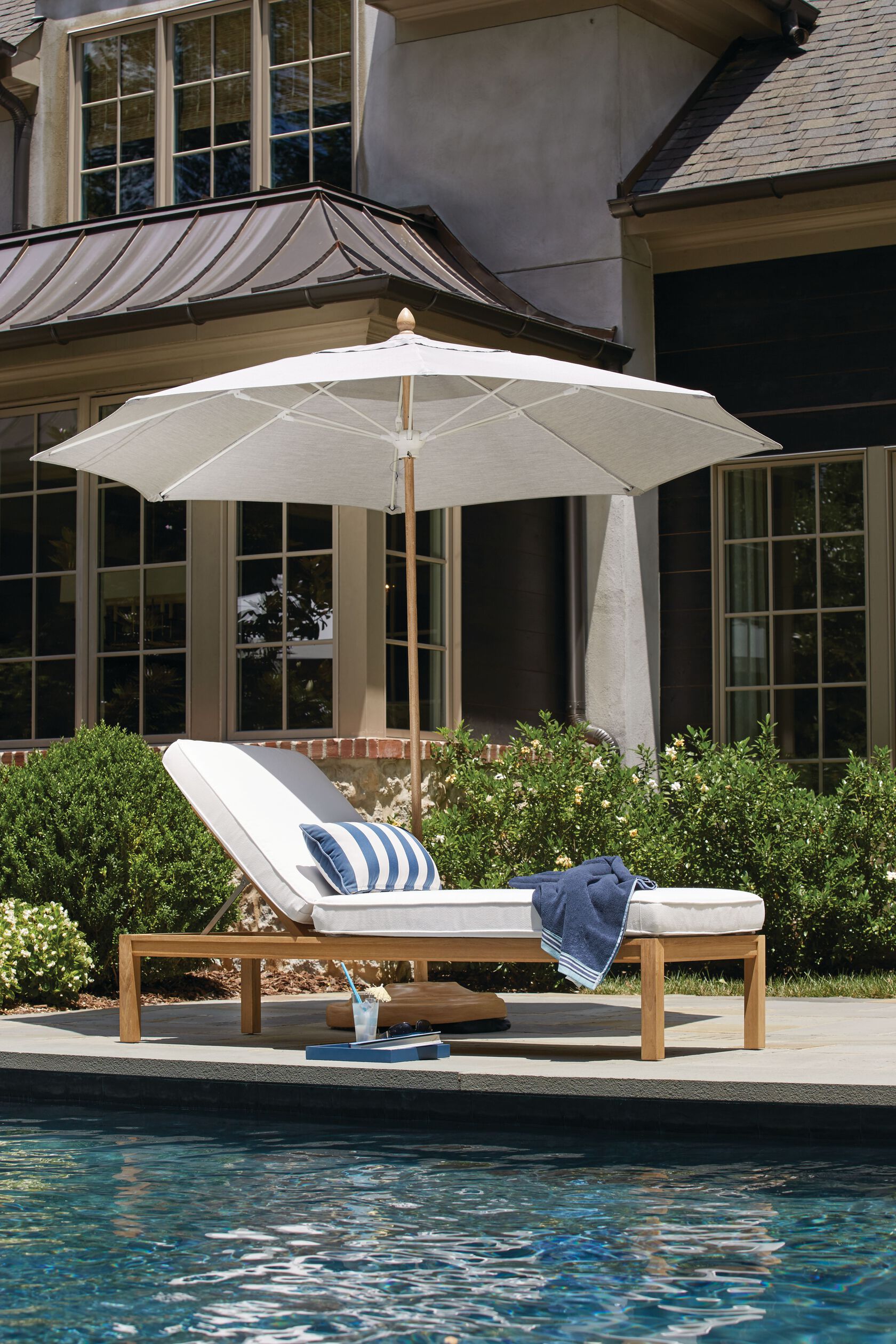 How to Choose Patio Furniture
Before getting into the details of how to buy patio furniture, a few questions can help you picture what you're looking for. Give yourself a chance to dream. Are you looking to catch a breezy nap, host a casual backyard get together, or create a regular outdoor dining spot?
1. Define the area you're looking to furnish, whether it's a deck, pool, enclosed porch, or backyard patio area.
2. Imagine who will use the space, so you'll have enough seating for family and guests.
3. Envision how you'll use the area. You may want a comfortable space for sitting and conversing, a reading retreat, an al fresco dining area, or some combination of them all.
4. Set a budget range. Invest in the best you can afford.
5. Think about the style and any colors that might come to you. With custom outdoor furniture, you can choose colors and a style that flows from indoors to outdoors, expanding the comfort of your home into the backyard.
6. The space is less defined as "living room" or "dining room."
7. Take into account weather and maintenance.
Patio Furniture Materials and Construction
When choosing patio furniture, the quality and durability often depend on the construction methods and materials used:
Patio Furniture Frame Construction:
Choose your outdoor furniture frame based on weather, wear, and style. When you know the options, you can choose a material that saves maintenance time and effort in your environment.
Wicker Patio Furniture – a traditional choice for outdoor furniture, wicker comes now in all-weather resin that can stand up to wet weather and lasts much longer than traditional wicker. You'll find various styles in this material but always look for quality, which is evident in tight weaves and realistic texture. Bassett's Huntington collection shows a transitional style with a natural vibe, while the Savannah collection features graceful curves for a classic mid-century style.
Wood Patio Furniture – Most wood begins to decay quickly when it's exposed to the elements, except teak, a naturally weather-resistant wood that has been used for centuries in boat building. Teak requires minimal care and weathers naturally to a nice silver color, or you can preserve the warm natural finish with teak oil. Teak is long-lasting, classy, sturdy, and good for windy conditions due to its weight. Bassett's Edgemont collection in plantation-grown Indonesian teak features contemporary, clean lines, and architectural detail for a spa-like effect.
Metal Patio Furniture – Metal frames like wrought iron can create a traditional, classic, or modern look. However, iron and steel tend to rust even if they are powder coated. Similar designs can be constructed from aluminum and powder coated to reduce maintenance. Look for smooth welds and check that it isn't too hefty to rearrange. Bassett Furniture's Florence collection is framed with slender black powder-coated aluminum for the look of wrought iron, giving it a chic, updated old-world character. On the other hand, Bassett's Lakeview collection has the tapered shapes and crisp joinery of modern Craftsman style, with the natural wood look of Aged Oak or Dark Walnut in low maintenance powder coated aluminum.
Patio Furniture Cushion Materials
Seat cushions are the key to your outdoor comfort. To maximize your relaxation time, choose easy-care fabrics and long-lasting materials that can withstand the elements.
The lifespan of an outdoor cushion depends on how well it holds up to water, dirt, and UV rays. Bassett Furniture's outdoor seating offers something no one else has – seat cushions wrapped in moisture-resistant ticking, which allows the cushion core to breathe. Bassett's sonically welded seams keep the elements at bay, and cushion foam is treated for moisture and mildew resistance.
Some inexpensive outdoor fabrics are made from spun polyester with a UV-protective coating, so they dry quickly, but are subject to fading. The premium fabric for outdoor cushions and couches is solution-dyed acrylic (such as Sunbrella). Designed for the outdoors, these acrylic fabrics are known for longevity, color retention, and resistance to UV rays, moisture, mildew, and staining.
Patio Furniture Style
When thinking of how to buy patio furniture, the easiest way to design a stylish area is to choose a variety of pieces that aren't all completely matched. A matched outdoor seating set for 20 is one way to fill a large space, but for relaxing pleasure, bring your indoor aesthetic outside and assemble a coordinated blend of textures, colors, patterns, and materials.
Integrating color is another way to express your style. Outdoor furniture frames offer a neutral base, and you can either keep the cushions neutral as well or use them to introduce color and pattern. Custom cushions even allow you to choose fabrics that coordinate in color and style with your indoor décor. With Bassett Furniture's outdoor collection, you can choose from over 100 outdoor fabrics, and details top stitch, self-welted, or contrast welt.
Bassett's Outdoor Furniture Tips
The final step in any patio furniture guide completes the room and makes it an extension of your interior. Accessories can transform your patio or porch into a second living room – or your favorite room in the home. Layer in rugs, cushions, accent tables, pillows and umbrellas. Plants, candles, and mood lighting add a homey touch as well.
Summer living at its best is outdoors on the patio. Whether that means lounging poolside, al fresco dining, a cool drink on the veranda, or taking in the summer breeze with friends, we do some of our best living outdoors. Make the most of your outdoor space. Browse Bassett Furniture's outdoor collection online or in your local Bassett Furniture store to inspire your outdoor room.